George T. DeBakeyPresident, DeBakey International
International Consultant for the Advancing Global EDU education consulting firm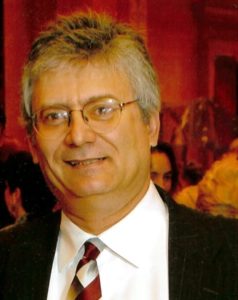 George T. DeBakey has been involved in international business for 40 years in the private and public sector.  Mr. DeBakey assists educational firms to expand and develop their business in the Middle East and other regions. Major focus in the education sector includes K-12 schools (mainly international schools) in the Middle East and universities. He is involved in areas of Arabic language products, educational technology, languages, eBooks, reading, literacy, science, math, STEM programs, special needs, professional development programs and online courses. He has worked with firms from the U.S., UK, Australia and Middle East. 
Mr. DeBakey is also an international advisor with the Advancing Global EDU firm and provides assistance on projects that have an international sales/business development requirement. 
He has been involved with Next Generation Science Standards (NGSS), Common Core, digital literacy, STEM solutions and products such as robotics, simulations, virtual labs and video science content.   Mr. DeBakey has been a speaker in the U.S. and Middle East on education issues and business opportunities at various national and international organizations. He has been involved with International Baccalaureate (IB) schools and attended the major IB conferences each year around the world. 
During his career Mr. DeBakey served as Deputy Assistant Secretary at the Department of Commerce and was the first person selected to serve as the Director of the Technology and Information Industries Office to promote exports of U.S. technology products and responsibility for trade policy for the sector. Mr. DeBakey led the first software trade mission of U.S. companies to China in 1985. 
Mr. DeBakey began his career with Rockwell International and served in various positions in the international division of the electronics and telecommunications sector. He lived and worked for more than six years in London, England and Cairo, Egypt.  
Mr. DeBakey has degrees from Drake University (BS), American Graduate School of International Management (Thunderbird) (Master of International Management (MIM), and Southern Methodist University (MBA). He has served on the National Advisory Board of the Arab American Museum in Dearborn, Michigan which is part of the Smithsonian Affiliate Program and the Board of the U.S. Center for Citizen Diplomacy. He currently serves on the National Advisory Board for edWeb.net which is an online community for teachers and administrators worldwide. He was one of the founders of the American Chamber of Commerce in Egypt. He served on the Smithsonian Science Education Center National Advisory Board for six years which promotes STEM education.
Mr. DeBakey taught in the mid-nineties in the graduate program at the University of Maryland University College program international business courses. He also taught at Georgetown School of Business an undergraduate international business course in the mid-nineties. From 1992-1997 Mr. DeBakey developed and taught in the International Business and Trade Program at the Washington Semester Program at The American University. He was a lacrosse referee for fifteen years in Montgomery County Maryland.